Today was a tough day.
Months ago, when planning this trip, I knew there would be times when I was miserable. Today was one of those days. All things considered, it was a good day, but there were a couple hours that challenged our resolve.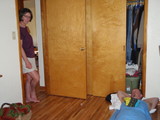 The story of today actually begins yesterday. Our host in Williston was very nice. We owe her a debt of gratitude. When we made contact with her at her workplace, she quickly gave us the scoop on the town: "Here's where the supermarket is if you need to buy supplies, I think you should have lunch here, they have great barbecue, here are coupons for $10 off, and my house is here. these are the keys. Gotta go.
When she came home, she cooked a delicious dinner of grilled "roadkill moose" steaks. The animal had been killed on the highway and by some interesting circumstances she ended up with some of the meat. Very tasty. Not like chicken at all.
She also cooked us breakfast and generally treated us like honored guests. If you are reading this, thank you very much. We are forever in your debt. The kindness of strangers has been a rare, but treasured blessing to us.
But, umm, there's one thing you need to know. Your advice about riding Rt 2 into Minot may not have been ideal.
Our host suggested that the route we had planned -- the small-road Adventure Cycling map route -- wasn't the "best" way to Minot. She suggested to stay on Rt 2, saving 20 miles. We looked at the maps and the advice seemed plausible. It may actually have been the best advice. We don't know. We had to choose one route and have no way to compare. What I do know is that conditions on Rt 2 were difficult.
The problem is that Rt 2 East of Williston is 4 lanes with a 70 MPH speed limit and has many sections with very little useful shoulder. Maybe if you drive a car it may look like a shoulder, but on close inspection it isn't ridable with a bike. Sometimes there's a small band of shoulder that is paved, but they annoyingly grind rumble strips in the middle of this band. Why this is necessary when the shoulder proper is so bumpy, I can't understand.
What saved us was the fact that it was Saturday. Traffic was low, and the first 50 miles flew by. At that point a SE wind started to pick up, and riding into Stanley took some doing. But it was still only just noon, so we decided to push on the next 55 miles to Minot. Those last 55 miles were extremely difficult.
The SE wind really picked up and the road quality deteriorated. As we neared Minot, traffic increased. Riding in-lane on a 4-lane highway with 70 MPH speed limit is not fun. Every so often, two vehicles are side-by-side in the two lanes and can't figure out how to get by a cyclist in the right lane grinding along at 10 mph.
As if this wasn't enough, the road is an endless climb. Again, from a car it may not seem to be a climb, but it is. Not a steep one, but a climb none the less. I kept seeing antenna towers as the climb flattened and thinking now this must be the top but in another mile it would slope up again. Maybe it was a 1% grade, but add this to the wind, the bad road surface, and temperatures in the mid 80s, and you have a recipe for misery.
When we finally rode into Minot after 12 hours in the saddle, we were in foul spirits. Things looked bleak. But when we saw that the Comfort Inn had a nice pool, with jacuzzi, things started to look up. Soaking one's sore body in a hot tub after doing a very difficult 125 mile ride is the shit.