Chris Nadovich's 2009 Transamerica Bike Tour.

Contact Me

Rugby, ND -- The Geographical Center of North America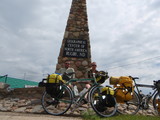 Hooray! Maybe we are half way. We reached Rugby, a town that claims to be the geographical center of North America. So, in that sense, we are half done. We've ridden about 1625 miles so far, but I don't know the total distance. Another way to measure is longitude. Today we crossed longitude 100 degrees West, having started at 122 degrees and are destined for Atlantic City at about 74.5 degrees. So, we have about 25.5 degrees to go, but we've been doing a degree and change per day, so the midpoint, longitude wise, is still a day or two away.
Today's riding continued to be tough as the wind remained 15-25 mph from the south east. With our easterly course, a handy sailboat could have done well close hauled, but we were "in irons". Riding the 70 miles to Rugby consumed the day. On the plus side, 70 miserable miles were not as bad as yesterday's 125 miserable miles, We were still on US 2, but the surface was a little better. The pavement now is relatively new concrete with a 3 foot smooth shoulder. No rumbles. We checked into a decent motel again and again soaked in a jacuzzi. It's the shit when your brain is fried from battling wind all day. Tomorrow we'll probably get back to camping when we reach Devil's Lake.
Wind calls for a paceline. With two guys, pacelines are marginally useful in mild wind, but strong wind is another thing. With the wind before our beam, the correct paceline formation is an echelon. Unfortunately, the 3 foot shoulder wasn't wide enough to hold us both, side by side, in this angled formation. We only rode an echelon for a few miles then gave up. Most of the day we struggled individually.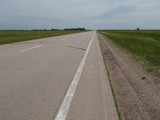 Part of the problem with riding here is how monotonous it is. There's a whole lot of nothing surrounding us. Just flat, open pasture fields, very few trees, and an occasional swamp-like lake to keep the mosquito poopulation supplied. Even the high plains of Montana were more interesting than this. Heck, even the corn fields of Iowa are more interesting.