Chris Nadovich's 2009 Transamerica Bike Tour.

Contact Me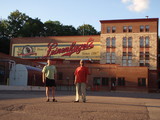 Once again we arrive in a town with a brewery -- and it's closed. Oh well. Earlier in the day I did drink my first Leinenkugel, so it wasn't a total loss.
Anyway, closed breweries not withstanding, riding in Wisconsin is sheer pleasure. We were on roads today that did not have painted lines -- the first time since Oregon. On many of the roads there was hardly a car. There are nice, tidy, scenic hills that are fun to climb, not long, featureless grades. And we continued to have good riding conditions. There was a stiff west wind, puffy clouds, and moderate temperatures.
We got a lazy start out of the motel; we weren't riding till 9:30. After 20 miles we found an excellent breakfast buffet in Amery. As it turned out, this was our last meal till 7PM -- again Sunday-itis: in small towns, nothing is open on Sunday except some bars. In fact, in Prarie Farm we stopped in a bar to hydrate, but we should have had a meal.
Then there were no bars. We saw an Amish style buggy and a local confirmed we were in a dry township.
Fortunately, there were a few places open in the brewery town of Chippewa Falls.