Bel Aire Motel -- Missoula, MT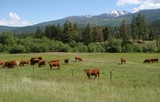 The dreaded Lolo pass was easy.
We followed the Lochsa upstream as it gradually diminished into its smaller forks cascading down the mountain. By my eye it's now a Class III whitewater stream with rapids that would probably dump a whitewater novice like me into the water, although I'd avoid drowning if I could get to shore in the fast, rockless sections between.
Upstream implies uphill, but the grade was steady and with the slight tailwind it was easy to turn over the pedals at about 12 mph. Before long we had logged 40 miles and had arrived at the beautiful Lochsa Lodge, a compound of cabins, a general store, and a large, elegant lodge building that houses a restaurant and some hotel rooms. We ate our second breakfast as our dew soaked tents, spread open on the grass, dried in the bright sun outside.
From the lodge it was another 13 miles to the Lolo pass. Gary left early, openly nervous about the challenge. I rolled out about 5 minutes behind him and almost before I knew it, I saw the Lolo Pass visitor center sign. Maybe it took me an hour and a half to cover those 13 miles up the hill. It was a windy road with a limited but useful shoulder. The views were unremarkable. Many of the hills had been recently logged bare.
At the visitor center, Gary's relief was evident. We high fived and traded banter about how overrated the climb had been. I was a little relieved too.
The descent from the pass was the real hard part. Even though it was a 3000 foot descent spread over about 40 miles, the stiff headwind had us pedaling down the grade. This downhill pedaling business quickly lost its charm, and the increasing city traffic didn't help, but eventually we rolled into Missoula where we plan to rest for a day, and do some chores.