Chris Nadovich's 2009 Transamerica Bike Tour.

Contact Me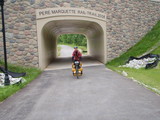 After stopping at Cops & Donuts for second breakfast, we rolled onto what may be the nicest rail-trail, in terms of facilities, that I've ever seen: The Pere Marquette Rail Trail. They must've been funded big time, but they also spent their money to excellent effect. Each junction has multiple signs giving nearby points of interest, a "you are here" map, trail etiquette rules, and more. There were bathrooms every few miles, park benches, beautiful rock fascia on bridges, and a nice smooth road surface. Sweet trail. I could almost forget how straight, flat, and generally boring the thirty miles of riding was. We fairly zoomed through at near twenty MPH in just an hour and a half.
The weather continues to be cool and cloudy, but there was absolutely no drizzle today, making for near ideal riding conditions. The North West wind continued as well.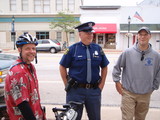 By the way, Cops and Donuts is a donut shop in Clare partially owned by the police force -- yes they know how self depreciating funny this is; t-shirts they sell say "you have the right to remain glazed" and "handcuffs and creampuffs".
After leaving the Pere Marquette trail, we zig-zagged to the tip of Saginaw Bay at Bay City. We found an Irish bar for lunch, then crossed the Saginaw river. The roads followed the edge of the bay, but all we saw was irrigation ditches and farm fields. At one point I caught a glimpse of the bay, a giant inlet from Lake Huron, as we crossed the Quanicassee river. Then more zigging and zagging across the basically flat terrain brought us to Caro, MI, for a "short" ninety-five mile day. Dinner was a Subway footlong, followed by Dairy Queen, followed by Oreos washed down with Shiner Bock. As you can tell, Gary's eccentric nutritional patterns are rubbing off on me.