Pittsford, NY -- Eighty Miles on the Erie Canal

Today was a spiritually refreshing spin down the Erie Canal towpath. We took our time, riding at an easy pace, had a leisurely lunch, saw the sights, talked to lots of people, and eventually rolled up to the beautiful home of family relatives who graciously volunteered to host us -- Thank You Bob and Shirlee.
From Lockport almost to Rochester, the canal path is flat, very smooth crushed stone surface. Towns appear every five or ten miles. There always seems to be a bar or ice cream store nearby any time you need one. The view of the canal can be repetitive, but its still a nice view.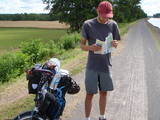 We met several interesting people. Nelson from Portugal was riding West toward Yellowstone. Gary presented him with Adventure Cycling maps of the Erie connector to get him to the Badger ferry. Thus we became trail angels for the first time.
We met a father-daughter team heading to Niagara Falls. They confided a dream to do a transam ride, and we encouraged them to someday live out their dream.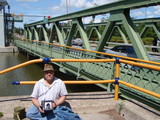 We met a photographer who specializes in ultra-large format film. He took our picture on a lift bridge.
All in all, it was one of the easiest days of the trip. Beginner tourists, or anyone looking for an easy, yet picturesque tour should consider the Erie Canal towpath.