Walaceburg, ON -- Canada on the Fourth of July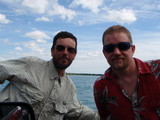 Maybe it's unpatriotic for us to be in Canada on this big US holiday, but the emigration made finding a hotel room easier. Our two-hundred klik ride today had about twenty kliks of wasteful detour around a broken bridge, but we met our goal to be in Canada on the fourth, crossing the Saint Clair River on the Blue Water Ferry at around four PM eastern time.
Today didn't begin well. We rode out of Caro on our Adventure Cycling map route. After a few miles we reached a "Bridge Out" sign. Another half mile and we saw the lack of bridge and a very wide river. So we follow the detour signs. Bad mistake. They take us about five miles west. Yes, WEST. When all is said and done we rode about twenty miles in a circle that took us back near Caro. Way too late I noticed a short-cut to the next town that would have avoided the whole mess.
Once I stopped being angry about that, things got better. Gary was really riding well and I hung onto his wheel as he towed me the next thirty at high speed till we ended up in the town of North Branch, where they were holding an Independence Day parade. Things were kinda' crowded there, and the cars were pouring in from all directions, so we high-tailed it out of town.

Soon thereafter, we met a fellow transam tourist, Judy, who was heading west. Sometimes we meet people who make us wonder if they will live another week on the road, let alone make it across the USA. Other times we meet obviously well prepared and experienced riders. Judy instantly impressed us as a quality rider and traveler. This impression was reinforced by the fact that she was riding a Rivendel Atlantis, like I ride.
We were honored to make her acquaintance.
Speaking of my Atlantis, I noticed some stress cracks on the rear rim, which has been slightly out of true. I think that rim should still get me home, but I'll be watching it. I also had some trouble with the rear dérailleur shift lever. It started to stick on me. Disassembly and some WD-Forty fixed it.
The weather was still on the cool side, but the sun was out and it made for a glorious day. Crossing the Saint Clair into Canada was a pleasure and we easily found a place to stay. It was just one buck to take the ferry. Other prices are ramping up, however. The hotel in Wallaceburg was pretty expensive, and so was dinner. Oh well, not everything about the northeast is good. No more free camping at highway rest stops and twenty-dollar dinner tabs.