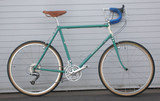 I received my new Atlantis from Rivendel in late December, but given it's arrival so close to Christmas, given how busy I was with holiday stuff, and given that it was so nicely boxed, I just wrapped it and put it under the tree. It's only today that I've gotten around to unboxing it. The weather is decent enough to ride in (38 degrees and sunny with little snow or ice on the roads). I was hoping to take my first spin.
The frame is beautiful, as anticipated. Breathtaking really, especially given how bikes these days tend to look like refrigerators. As the Rivendel packing was very well done, there was not so much as a scratch on the paint. Maybe there was the faintest smudge from the black tire rubbing against the light gray handlebar tape, but the smudge is where my hand will naturally rub it off.
Alas, I did find one issue.
I had ordered a complete bike, less saddle and pedals. This is not an uncommon deletion on a high end bike, given that these two components are very "personal". My cleated shoes match only a certain kind of pedal (which I already have), and my butt matches the hard-won indentations on my well worn Brooks leather saddle, painful progress that I'm not inclined to re-win on a new saddle.
When I pulled the bike from the box and did a quick inventory, I saw immediately that there was no seatpost (the adjustable part that connects the saddle to the seat tube of the frame). Indeed I expected to receive a seatpost to bolt my Brooks onto and I suspect I paid Rivendel for this gadget. Unfortunately, I couldn't seem to find said seatpost, either mounted in the seat tube or amongst the packing material. I looked quite thoroughly.
I think Rivendel might want to have a meeting to discuss their QA procedures. Maybe I was an exception -- maybe most customers get a stock kit -- but I got the impression from them that they invited some customization. I had several pleasant email conversations with them as various component options were discussed. This had me happily surfing the web, weighing the advantages and disadvantages of arcane differences. It was glorious.
Then one day I received an unexpected email from UPS saying that my bike had shipped. WTF? I didn't recall seeing a final list of parts -- a final price. We had discussed options and informal decisions were reached, but spread over a dozen emails it was hard to tell what I had bought. I emailed Rivendel immediately asking what they had shipped me.
Not surprisingly, the parts shipped on the bike were not entirely what I thought we had agreed on. What did surprise me was how quickly Rivendel acted to correct the situation once I brought it to their attention. They reversed the UPS delivery in transit, got the bike back to their shop, and straightened out the parts list. This action was undeniably the Right Thing. I was very impressed.
Alas, when I received the bike it still had that one remaining packing list mistake – the seatpost. Oddly, the seatpost was never altered in any conversation we had. I liked the stock seatpost.
In my opinion, if Rivendel Bike is willing to support a "hold the pickles, hold the lettuce" special order conversation with customers, they probably need some sort of QA process to keep individual details from falling through the cracks, as they did with my order: more than once. At a minimum I think they should present a final bill of materials (with final price) to customers. and receive their approval before shipping. Somebody other than the builder should check the shipped assembly against the BOM. Then again, I may not understand all the special issues they face, but the manufacturing and shipping process isn't generally a unique thing.
Still, all in all, I'm a happy customer. The end product is what matters and they make a sweet product. I'd highly recommend Rivendel Bike to anyone looking for a quality, traditionally lugged, steel frame bike. And holding that thought, I was too weak to patiently stare at the beautiful but seat-post-less Atlantis on such a nice (relatively speaking for January in Eastern, Pennsylvania) day. I had an old Campy SR seatpost on which I was able to mount my Brooks, and off a-pedaling I went.
Very nice bike. I'm quite happy with the fit, which is amazing given that the bike was purchased over the net. The stem extension is just right. The frame size is just right. I like the way it shifts. I like the way it stops. I like these humongous noodle bars with the twined-up and shellacked tape ends.
Of course, the beast rolls like a freekin' tank compared to my twitchy racing bikes, especially on those big ass Schwalbes, but that's a good thing. As a long distance, TransAmerica load hauler I'm starting to trust this pretty machine, and that's a very good thing.