Chris Nadovich's 2009 Transamerica Bike Tour.

Contact Me

Gary and his whole department at Siemens were terminated -- that's the third bad thing. I just talked to Gary and he seems upbeat about it. Since I know several of Gary's collegues from New Years Eve^2 parties immemorial, and I know at least some of them read this blog, I hereby wish you all the best as you set off in your own adventure later this month. There's still limited space available on our bike ride, if anybody want's to join us (How about it Adam? What do you say to a transcontinental bachelor party?)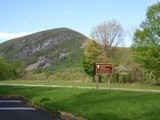 I completed my first 300K brevet in good form. Mercifully, the heat exhaustion that pwned me last week has left no ill effects.
The ride started out in 55 degree temperatures, in the dark, with a light rain falling. By noon, the sun broke through the clouds and it became a glorious day. The route sent us up from Quakertown to climb Blue Mountain at Little Gap and over across Cherry Valley to Delaware Water Gap. From the Gap we went up and back to Dingmans Ferry. Crossing The Dingmans Ferry Bridge is a treat -- cyclists are rarely allowed to ride on bridges, let alone toll bridges. But at this bridge, I was welcomed by a smiling toll taker standing under a wood canopy. He just waved me through and didn't even ask for the buck! Of course, Dingmans Ferry Bridge is the last privately owned toll bridge on the Delaware River and one of the last few in the United States. All the other Delaware bridges are government owned and have "NO BIKES" signs with grumpy officials who sit there all day to enforce the rule. Our tax dollars at work.
The return from Dingmans was on Old Mine Road, the oldest continuously used road in the USA. The trek home from the Gap was through the "Alps of New Jersey", finally seizing on the Muscenetcong river valley as our route back to Riegelsville, 611, 563, and done.
The night before, I had attended a wonderful performance of Sunday in the Park With George at DeSales University, and all through the ride the musical's catchy Sondheim tunes were stuck echoing in my head. The fact that one of the Controle stops was at "Louie's" didn't help.