Chris Nadovich's 2009 Transamerica Bike Tour.

Contact Me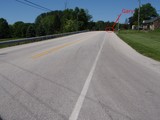 Gary, Hammerhead, is a machine. He tells me that his choice of gears is limited, forcing him to ride faster than me. Personally, I think he's riding faster than me because his average distance covered per unit time is greater than what I cover -- particularly on hills.
But that's OK. He doesn't seem to mind waiting for me, and I do have a GPS with the coords of every go-go bar in the northern tier. Gary and I may form a symbiosis not unlike the interdependence between Vic and Blood in A Boy and His Dog. Yeah. I'm the dog.
In any case, we had a glorious overnighter to Chris G's place in Lancaster -- a very nice house, I might add. We explored some local brew pubs and Mexican restaurants. Round trip distance about 140 miles.