Four Day Shakedown Trip to Binghamton

After a comfortable overnight to Lancaster, I wanted to finish off my training with a long, multi-day trip. Although there were 400K and 600K brevets running these weeks, I dismissed them. somewhat for scheduling reasons, but more because longish brevets aren't representative of the kind of riding I want to do on the TransAm. They wouldn't teach my what I want to learn about my capabilities with a heavily loaded bike on a multi day tour. I needed something around 100 miles a day.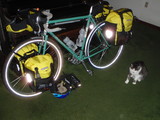 Recently, a cycling friend pointed me to WarmShowers.org, a hospitality site for touring cyclists. The site is a way for touring riders to find a place to sleep on the road. In exchange for free lodging away from home, you promise to host other cyclists when you are back at home.
When planning a recent multi-day tour, I was looking for a good stopping point a little over a hundred miles from home. Checking the WarmShowers site, which has some nice searching and mapping capabilities, I easily found a family living in a reasonable spot. I figured I'd give it a shot. I contacted them, they agreed to host me.
I had fully prepared to camp in their yard and ask for nothing more than access to potable water. I brought my own food -- a dehydrated Mountain House meal -- and carried a tent. I honestly was going to camp. Honest.
But then my host mentioned the fresh strawberry-rhubarb pie she had baked. And the spare bedroom. Here, let us help you with your bike. Lean it on the piano. And look, the shower is right over there. And won't you have a glass of wine?
I may be able to ride 100+ miles on a loaded touring bike over the ridge and valley Appalachians, but I was unable to surmount their hospitality -- not to mention the thought of strawberry rhubarb, one of my favorite pies. I crumbled into blissful submission.
What incredibly nice people my hosts were! My first experience with warmshowers.org was totally positive. I'll use the system again if it fits my plans. And I look forward to showering warm kindness on the first guests that come our way through the site.