Chris Nadovich's 2009 Transamerica Bike Tour.

Contact Me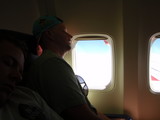 We made it. Our bikes and gear made it.
Our host Mike and his wife Arlene are very nice. I understand that Arlene spent some time schlepping around our UPS packages. We owe a debt of gratitude to her.
So far, the trip has been pleasantly uneventful. I was worried that my bike would be damaged, or I would be missing some essential part, but so far as I can tell the everything is fine.
Tomorrow morning, Arlene will take Mike, Gary, and I to the sea and we'll ride back here. That will really be the first day of riding.