Chris Nadovich's 2009 Transamerica Bike Tour.

Contact Me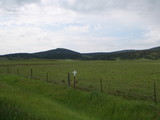 The American Legion of Montana places a white cross at the location of every fatal highway accident.
I passed through a section of road near the Judith River that was dotted with so many crosses that it looked like a cemetery. It really started to rattle me.
Today was 120 miles through scenery that reminded me of a cowboy movie. I expected bloodthirsty injuns or outlaws to spring out from behind a sagebrush thicket or butte. There were hardly any towns, no shade, and a relentless series of stream crossings that had us diving down a rim into these pint-sized Grand Canyons, just to climb back up the far rim a mile further after crossing some muddy trickle they call a creek. Any of a dozen of these "negative mountains" were worse than the Continental divide. Ultimately we arrived in Circle, MT, a dusty nothing of a town that made Winnet look like Paris. The town park wasn't very enticing, and we haven't had a real shower in a few days, so we checked into a beat-up looking but reasonably adequate motel with a dinosaur out front.