Chris Nadovich's 2009 Transamerica Bike Tour.

Contact Me

Royalton, MN -- Across the Mississippi!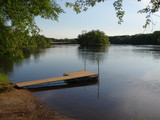 When I first saw the Old Man, he appeared to be flowing northward. That rocked my world for a minute. How could the Mississippi be flowing North? Could we be above its source? Did we cross it earlier and I didn't notice? Was there some strange Twilight Zone spaciotemporal inversion happening? Back in Montana, Gary claimed he could move US 2 with his mind. Could this reversal of the Mississippi be an unintended consequence of his meddling?