Ludington, MI -- City Campground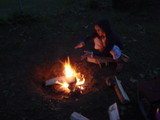 Our trip today included a ride on the SS Badger across Lake Michigan. We rode our bikes from our motel just east of Appleton to the dock in Manatowoc, rode the Badger across the lake, then back on the bikes for a short ride to the municipal campground just north of Ludington. That was 100K on bike, 100K on ship. We are now in the eastern time zone. Goodbye Wisconsin. I never had a brat or a decent squeeker.
The ride into the departure dock was unremarkable. Temperatures remain cool and there was some brief drizzle. The continued North West wind made the ride easy.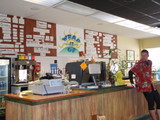 We arrived at the Badger at around 11:30. We needed to board by 12:30. We hadn't had lunch, so we darted into town for a quick bite, picking a nearby cafe specializing in "wraps". How long could it take to get a wrap? Five minutes? Ten? Guess again. It took a half hour for Gary and I to get our wraps, and there was no line. The place was run by some religious group, and their faith buddies kept coming in shooting the breeze with the kitchen help. I tried praying for faster service, but you know how it is when you are catching a train, plane, or ship and want to grab a quick meal. Noah would have been sunk if he stopped here before boarding the ark.
The Badger itself was great. I highly recommend the trip. It's a tad expensive: about $70 per person, plus vehicle fees. We paid $6 per bike. But it's a good time. There were numerous rooms in the ship: a TV room, a quiet room, a central lounge with a bingo game. Even a Badger Idol competition -- karaoke on the high seas. We met some great folks and had lots of laughs.
Upon arrival in Michigan, our plans were originally to stay at the state park, but when we saw the city campground much closer, we stopped. Twenty two bucks for a "rustic" site seemed pretty steep till we later learned that the state park is booked months in advance. Still, the guy at the office had us incredulous when he told us he would "try to find a spot for us". The campground was virtually empty! There were at least 75 empty sites.
A woman and her daughter were checking in at the same time and offered us some space in their site if necessary, but it turned out the campground office could "fit us in". We ended up socializing with the two of them for a while. Nice people. We've. met many nice people on this trip.