Chris Nadovich's 2009 Transamerica Bike Tour.

Contact Me

Ludington, MI -- City Campground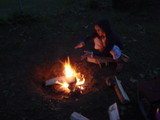 Our trip today included a ride on the SS Badger across Lake Michigan. We rode our bikes from our motel just east of Appleton to the dock in Manatowoc, rode the Badger across the lake, then back on the bikes for a short ride to the municipal campground just north of Ludington. That was 100K on bike, 100K on ship. We are now in the eastern time zone. Goodbye Wisconsin. I never had a brat or a decent squeeker.
Manatowoc, WI -- Boarding the SS Badger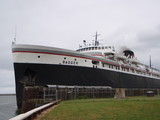 Maybe you think we cheated, but I think Lake Michigan is just a rather wide river -- 60 miles wide, to be exact. We boarded the SS Badger, a coal fired steamship, from the port at Manatowoc Wisconsin, and rode her to Luddington, MI. If you combine our 55 mile ride in from Appleton, and 5 miles to camp in Ludington, total milage for the day was our usual 120. Half of it was on board ship drinking beer and playing bingo, but never mind that.