Chris Nadovich's 2009 Transamerica Bike Tour.

Contact Me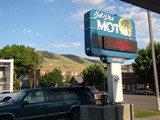 After arriving in Missoula, we checked into the Bel Aire Motel, took real showers, and headed out in search of beer. Just a few blocks away we found an adequate brew pub. They had Guinness, Moose Drool, and some sort of smoky Scottish ale. The NBA playoffs were on and the joint was jumping with kids half our age, drawn there by 2 for 1 well drinks. What seemed to be the drink of choice was called a "Dirty Girl Scout", a green and brown layered combination of Creme de Menth, Kahlua, and Baileys. When people bumped into you, they said, "Excuse me, pardner."
Gary showed no sign of his previous, beer refusing funk. We stayed too long at the brew pub as the locals kept buying us rounds once they learned we were Trans Am riders. We managed to soldier on, downing reposado shots and pints of microbrews till we extracted ourselves and staggered back to the motel.
The next morning we were predictably slow to rise, but eventually managed to put down some decent breakfast at a local cafe. Then it was back to the Motel to do laundry, and myriad other chores. Both Gary and I put on new chains and did bike inspections. I caught up on email and blogging. And we took naps.
Eventually we felt presentable enough to visit Adventure Cycling, the source of our maps and a major outfitter of long distance bicycle tours. They had smiles and free ice cream for us, took our picture to post on their wall of fame, and showed us around the office.
After that it was time for another nap, some exploring, a few more chores, and a pizza dinner. (Gary also ate a salad !?)
Tomorrow we hit the road again. We've chosen to head northeast for Rogers Pass on Rt 200, over the continental divide, and on to Great Falls, rather than follow the original Lewis and Clark route through Lemhi.