Chris Nadovich's 2009 Transamerica Bike Tour.

Contact Me

A few days after we left Pacific City, OR, it suddenly dawned on us what the natural endpoint for this ride has to be: Atlantic City, NJ. The naming parallel is too good to pass up. So there you have it. Our end goal is now decided. All that remains is to ride there. This is now Chris and Gary's Pacific City to Atlantic City ride.
I know that some of you reading this would like to meet us when we come in. Unfortunately, it's hard for us to say just exactly when that will be. All I can predict thus far is that we will try to maintain our 100 mi/day progress. That would seem to imply that roughly a month from now we will be rolling into AC. As we get closer to the end, our ETA prediction should improve, but this far out we are too affected by weather and other random factors to give a better guess.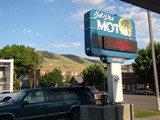 After arriving in Missoula, we checked into the Bel Aire Motel, took real showers, and headed out in search of beer. Just a few blocks away we found an adequate brew pub. They had Guinness, Moose Drool, and some sort of smoky Scottish ale. The NBA playoffs were on and the joint was jumping with kids half our age, drawn there by 2 for 1 well drinks. What seemed to be the drink of choice was called a "Dirty Girl Scout", a green and brown layered combination of Creme de Menth, Kahlua, and Baileys. When people bumped into you, they said, "Excuse me, pardner."