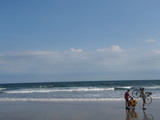 The most common question we were asked during our ride was: "how long will this take?" I found the question to be troubling because it implied that our journey was subtracting something from our lives -- that it was an overhead cost or temporary distraction that was keeping us away from what we really should be doing.
This ride didn't take anything at all. Rather, it gave us over forty days of wonderful experience that will add to our lives for years to come.
More than that (and most surprising to me) it gave to the lives of more people than just Gary and I. As I talked to the small crowd of friends and family that gathered like a cloud of homespun paparazzi at the end of St James Place to witness the ceremonial wheel dunk in the Atlantic Ocean, I learned that our ride had touched their lives on a daily basis. Through this blog, phone calls, cell photos, and an old fashioned post card or two, our progress across this great continent had become everyone's progress.
When we successfully spotted an unusual bird (like the whitewater pelican) or vainly hunted some local delicacy (like the elusive "squeeker"), our friends and family somehow were riding right beside us enjoying the thrill or disappointment. When we crossed an important dividing line, news of this accomplishment would be telegraphed rapid fire amongst our spiritual co-riders like the latest sports news or hot gossip: "The boys are across the Divide!" Or, when a few days would go by without us being able to communicate with the world, shared worry and foreboding would develop, turning into shared relief and excitement when we popped back up.
Discovering that so many of you were riding along with us in spirit was both thrilling and humbling. Through the comments on the blog I knew early on that many people were paying attention, but until I saw the crowd of you all dip your wheels of happiness, sympathy, and friendship alongside ours, I had no idea of the size and strength of our spiritual peloton.
We All Made It!
Of course, not all our co-riders were spiritual. Thanks, Mike, for hosting and riding with us at the very beginning. And thanks, too, for your brutally hilly route over the coastal range and the flank of Mount Hood that got us started in good, painful style. They say: what doesn't kill you makes you stronger. Maybe Mike's route strengthened us better and earlier and thereby helped us avoid injury later on.
Thanks to the PA Land Sharks Sharon, Adam, and TJ for physically riding along with us at the end. Extra kudos go to TJ who devised what was (in my no so humble opinion) a most excellent, back-roads route to Atlantic City. He withstood the heat from the peanut gallery that accompanies the nearly thankless job of navigating. Thanks Teej! I owe you one.
Lastly, I'd like to thank Gary who's confidence and strength as a riding partner inspired me to push through some of my more challenging days, and who's camaraderie, exuberance, and sense of humor helped dissipate the tedium and loneliness of the big open spaces we crossed.