Chris Nadovich's 2009 Transamerica Bike Tour.

Contact Me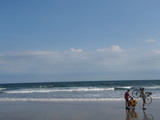 The most common question we were asked during our ride was: "how long will this take?" I found the question to be troubling because it implied that our journey was subtracting something from our lives -- that it was an overhead cost or temporary distraction that was keeping us away from what we really should be doing.
Gary carried a camera and took lots of pictures. Click the camera icon to see my favorites from his collection.