Chris Nadovich's 2009 Transamerica Bike Tour.

Contact Me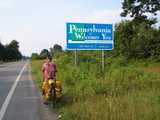 Back to Pennsylvania -- and Pennsylvania hills. We tried a new route between Nicholson and Jessup that turned out to be somewhat challenging, hill wise, although it was far superior to the traffic choked route down-in and up-out of Scranton that I used on my shakedown ride. This time I crossed the Wyoming valley on PA 247. The precipitous drop into the valley was great fun on the twisty, two lane road, and I actually enjoyed the very long climb out of the valley on the much quieter route.
Despite being delayed by unfavorable winds, our goal to camp at Pocono Whitewater seemed within reach till a hailstorm opened up and we ran for the cover provided by the Best Western in Blakeslee. We are about eighty miles from home. The ride in tomorrow will cross some tall mountains, but otherwise should be straightforward. See you all tomorrow!
When today began, I was looking forward an easy spin out of Binghamton, rolling easy down the flat, yet still scenic, US 11, an encore of my shakedown ride two months ago. Unfortunately, a stiff headwind from the south made riding from Binghamton to Nicholson something of a tedious grind. We left the convenience store across from Tunkhannock Viaduct after eleven. I recall being there at least an hour earlier on my shakedown ride.
The route I used out of Nicholson was this: PA 92 north to the first right -- SR1031. This took us behind the viaduct for the classic photo, then up a long climb and eventually into Fleetville. From there it was down PA 407 a bit, then East on PA 438 to PA 247, and through the valley. Despite the numerous hills, I think this route is better than the alternative of taking US 11 all the way in -- and the horrid Moosic street and PA 502 out.
The route was better, but there was bullet we dodged. The bridge just before East Benton is under construction. The only detour uses the Interstate. This could have been real, real bad for us, causing at least a ten mile backtrack through hilly terrain. Fortunately, the construction workers had set up a narrow ford that we were able to squeeze through. Lesson to all tourists: if the sign says Bridge Out, unless you know the detour is low-cost, go inspect the missing bridge site. There may be a way across on foot.