Chris Nadovich's 2009 Transamerica Bike Tour.

Contact Me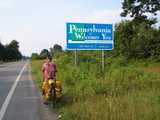 Back to Pennsylvania -- and Pennsylvania hills. We tried a new route between Nicholson and Jessup that turned out to be somewhat challenging, hill wise, although it was far superior to the traffic choked route down-in and up-out of Scranton that I used on my shakedown ride. This time I crossed the Wyoming valley on PA 247. The precipitous drop into the valley was great fun on the twisty, two lane road, and I actually enjoyed the very long climb out of the valley on the much quieter route.
Despite being delayed by unfavorable winds, our goal to camp at Pocono Whitewater seemed within reach till a hailstorm opened up and we ran for the cover provided by the Best Western in Blakeslee. We are about eighty miles from home. The ride in tomorrow will cross some tall mountains, but otherwise should be straightforward. See you all tomorrow!